Step 1
Apply the horns to the forehead and ears on top of the real ears; to do so, use
Pros-Aide - The Original - 50 ml
. Leave the product on the pieces for 1-2 minutes before pressing the prosthetics on with your hands.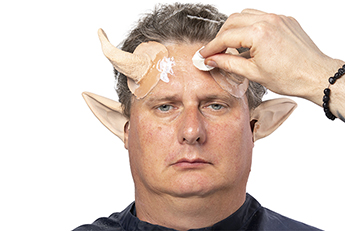 Step 2
Blend the edges of the horns with
Liquid Latex clear 100 ml
. The product helps to create injured skin. Speed up the drying process with the help of a hair dryer or hand fan. Sealer provides a protective layer for the horns.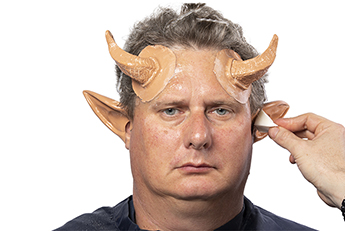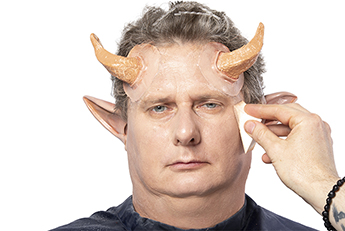 Step 5
In this step, mix one or several shades similar to the skin tone of
Supracolor 8 ml
and apply them to the entire face and neck. Apply the product with a part of a Make-up Sponge.
Step 8
The area around the horns and at the hairline is emphasized a bit more intensively so that the make-up looks more three-dimensional. Use shades 982 and 545 for this.
Step 9
Powder the make-up with Translucent Powder 60 g (TL 1) to fix the result.
Step 12
Now glue
Full Beard
and the mustache
Mustache
onto the face using
HD Pro Gum 200 ml
. The glue can easily be applied to the tulle (the base of the beard). Wait a bit for it to dry slightly, and then apply the beards to the skin.