Step 2
Our next step is the base for eye make-up. Press a small amount of the
Digital Complexion Concealer
(here in shade P O2 mixed with O 12) onto the mobile lid and go up to the brow bone. This will neutralize any discoloration and serve as a base for the following eye shadow application. You can use any preferred brush. Use only a very thin layer and let it dry once it's applied.
Step 4
​It's time to connect. Apply
Glamour Glow (icy blush)
onto the brow bone to highlight this area and merge the eye shadows together for a seamless finish.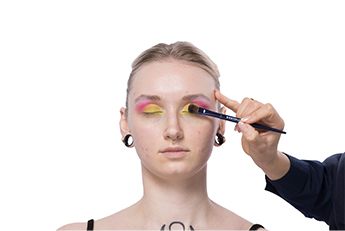 Step 6
To punch up the color even more, press
Eye Shadow Matt (lemon)
on top of the HD Cream Liner. This will give you a maximum impact of color.
Blue Master Eye Shadow Blender Brush
is used for this step. Make sure to also apply the same shade on the inner corner of the eye and one-third along under the lower lash line. This shade will merge with the Eye Shadow in the next step.
Step 9
The following steps will focus on the foundation. Build the desired coverage with
Ultra Foundation Mirror Box 10 g
. Apply in thin layers and add if needed. This leaves the skin with a dewy and glossy finish. Blend in the foundation with the
Blue Master Buffing Brush
for a flawless streak-free finish.
Step 10
​In fine layers, build the desired coverage with the
Digital Complexion Concealer
(here in P O2). Use a dense blending brush and stipple the product into the inner and outer corners of the eyes and up towards the temples. This also helps to shape the face and highlight the area under the eyes.
Step 11
​This step is optional. If you like to powder, apply
Digital Complexion Finish
in very fine layers onto the areas that need to be fixed and mattified. Make sure not to bake with the Digital Complexion Finish powder.
Step 12
To connect the blush with the eye make-up, sweep
Eye Shadow Matt (hot pink)
onto the top of the cheekbones and apple of the cheeks if suited.
Step 14
​In this look, the brows are not a feature but still need to be groomed to go with the look. Lift and groom the brows using
Eyebrow Forming Gel (clear)
in Clear. Simply use the wand to brush up the brows for a fluffy, brushed-up effect.
Step 15
Adding cool hues to the lips helps merge the tones between the eyes, cheeks, and lips. Add a layer of Halo Gloss Hologram ((launching soon) to complete the look.